Beef Stroganoff Recipe
This microwave beef stroganoff recipe is so quick, easy and delicious!
Serve it with rice or pasta or mash, or even substitute the beef with chicken or pork if you prefer.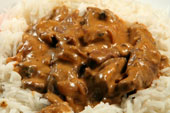 Ingredients
1 kg rump steak, cut into strips
Half cup plain flour
Salt and pepper
1 onion, chopped or sliced
2 tbsp tomato puree
1.5 cups beef stock
Quarter cup red wine
100 g sliced mushrooms
30 ml sour cream
Method
Toss the steak with the flour, salt and pepper. Place the steak, onion, tomato puree, beef stock and red wine in a casserole dish. Cover and cook in the microwave for 35 minutes on a medium heat, stirring twice during cooking. Stir in the mushrooms and sour cream, and cook for a further 5 minutes on medium.






Click to download the printable version of this recipe
To the Top of Beef Stroganoff Recipe
Comments or Questions?