Chicken Kiev Recipe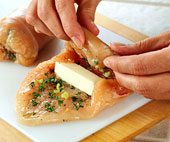 This homemade chicken kiev recipe is easy to put together, and much tastier than the store-bought stuff.
You can even prepare it a day ahead, so that it just needs to be fried before you're ready to serve. Good accompaniments are a nicely seasoned mash, and a simple green veg.
Ingredients
4 fresh chicken breast fillets
salt and ground black pepper
120g butter
2 tbsp freshly snipped chives
2 tbsp freshly chopped parsley
3-4 cloves of garlic, crushed
4 tbsp cake flour for coating
1 extra large or jumbo egg, beaten
2 cups fresh white breadcrumbs
oil for frying
Method
Put the chicken fillets between two pieces of plastic wrap or waxed paper, and pound with a meat mallet until thin, about half a centimetre. Sprinkle the underside with salt and pepper. Soften the butter a little and add the chives, parsley and garlic. Shape into 4 equal sized "sausages", and chill until firm. Put 1 butter sausage into the centre of each chicken fillet. Fold the long side of each fillet over the butter. Fold the short ends over, then the remaining long side, envelope fashion, to enclose the butter completely. Roll the parcels first in the flour, then in the beaten egg, and finally in the breadcrumbs, then chill for at least 2 hours, or overnight (this helps to set the coating, making them easier to fry, without the butter leaking out). Fry the parcels in hot (but not boiling) oil for about 4 to 4½ minutes in total. Drain on absorbent paper and serve while hot.







Click to download the printable version of this recipe
To the Top of Chicken Kiev Recipe
Comments or Questions?