Cosmopolitan
by Trevor Lowe
(South Africa)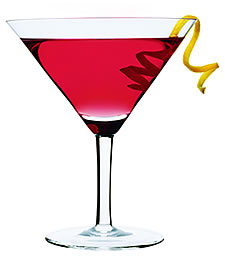 Ingredients
25 ml Vodka
25 ml Cointreau or triple sec
100 ml cranberry juice
2-3 wedges of fresh lime

Method
Put a handful of ice in a shaker. Pour in the vodka, cointreau/triple sec and cranberry juice. Squeeze in the wedges of lime and drop the skin in the shaker. Shake hard and strain into a martini glass. Garnish with an orange twist.