Homemade Gravy Recipe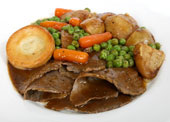 Delicious (and easy!) homemade gravy recipe for your roasts.
You simply cannot have a roast without gravy. It's the best part! This homemade gravy recipe is pretty much foolproof, and will have your friends, family and guests' mouths watering...
Ingredients
Flour or cornflour
Stock
Bisto (or other) gravy powder
The juices from the roast meat
Method
Put about 2 heaped teaspoons of flour or cornflour into a cup, along with another 2 heaped teaspoons of gravy powder. Fill the cup with cold water and mix really well so that it's smooth. Fill another cup with boiling water, add your stock cube and mix until it's dissolved. When your roast is done and you take it out the oven, keep as much of the natural juices as you can in the roasting pan. Add both cups of "mix" to the roasting pan juices, and put it onto a hot plate on the stove. Start stirring until it gets to the boil, then turn the heat down to let it simmer for a while.
Hints & Tips
Don't try to hasten the cooking of the gravy. This is one of the secrets! You need to make sure the flour is properly cooked for the full flavour of the gravy to come through, otherwise it will just be another boring, floury-tasting sauce (yuck!). Once you turn the heat down to simmer, let it do so for a good 8 or so minutes at least.
Cornflour will make your gravy thicker than flour, so if you have cornflour instead of flour (or prefer using it), I prefer to err on the side of caution by using less quantity than flour. You can always thicken it if you need to.
If you need to thin your gravy, then just add more water and let it simmer a little longer to the consistency you like.
For a chicken roast, especially if it has no stuffing, pour any juices out of the cavity of the chicken and into the roasting pan for the gravy, when you take the chicken out. If your chicken comes with giblets, add them to the roasting pan while cooking the chicken, leave them in the pan while making the gravy, and then remove them.
For a pork or lamb roast, you may need to gently tip some of the excess fat out of the pan before making the gravy, but try not to lose any of the underlying juices.
You can pretty much use any stock for any roast, but beef stock is usually better with a beef roast, chicken stock with a chicken roast, and so on. I use beef stock for a pork roast, but I have used chicken stock before, with equally delicious results.
Variations
Add a teaspoon of mustard (wholegrain dijon is a good option, or English mustard for a beef roast) and a splash of soy sauce.
For chicken especially, thyme is a nice addition, and perhaps a drop of white wine.
A little red wine is nice with a beef or lamb roast gravy, but never overdo it.
You could also add a quarter to half a teaspoon of crushed garlic, and/or a shake of dry onion flakes. Or, if you roast onion with your meat and/or potatoes, keep some of that in the pan while cooking the gravy.
Above all, remember that gravy is not meant to kill or overpower the roast, it should just be the finishing touch, so whatever you add or experiment with, go lightly :-)






Click to download the printable version of this recipe
To the Top of Homemade Gravy Recipe
Comments or Questions?