Homemade Macaroni and Cheese Recipe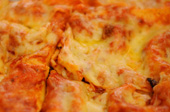 This delicious homemade macaroni and cheese recipe will feed six healthy appetites, with enough for leftovers.
Macaroni and cheese also freezes really well, so you could bake it in individual portions. Perfect for those days when you really want a hearty meal, but just don't feel like cooking.
Ingredients
250g rindless streaky bacon, finely chopped
3-5 tomatoes, depending on size
125g mushrooms, chopped
3 cups macaroni
Grated cheese for the topping
Cheese sauce
Method
Fry the bacon until almost fully cooked, then add 1-2 chopped tomatoes. Fry until the tomatoes are about halfway cooked, then add the mushrooms and fry until done. Make your cheese sauce as per this recipe. I like to add extra milk to the cheese sauce for the macaroni and cheese so that it's not too thick, about 3/4 of a cup. Boil your macaroni for about 10 minutes, until al dente. In a large casserole dish, combine the pasta, cheese sauce and bacon, tomato and mushroom mix. Slice your remaining tomatoes and cover the top of the mixture with them, then sprinkle grated cheese over that. Put the macaroni and cheese into the oven on 180°C for about 8 minutes to warm through, then grill the cheese on top.






Click to download the printable version of this recipe
To the Top of Homemade Macaroni and Cheese Recipe
Comments or Questions?