Homemade Tomato Sauce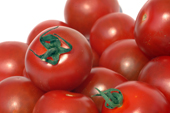 A good basic homemade tomato sauce recipe, which can also be frozen or refrigerated.
This recipe can be the basis for a lot of recipes which call for a homemade tomato sauce. I use it particularly with pasta, and a favourite meatball dish.
Ingredients
1 finely chopped clove of garlic
4 tbsp olive oil
1 small chopped chilli, or equivalent chilli paste or chilli powder
2 teaspoons dried oregano
3 x 400g tins of chopped tomatoes (or equivalent fresh)
1 handful of roughly chopped fresh basil (or +/- 1 tbsp dried)
salt and pepper
Method
Add 2 of the 4 tablespoons of olive oil to a pan, and gently fry the garlic, then add the chilli, oregano and tomatoes. Bring this to the boil, then let it simmer gently for about an hour. Add the basil, salt and pepper, and the rest of the olive oil, and you're done!







Click to download the printable version of this recipe
To the Top of Homemade Tomato Sauce
Comments or Questions?