Thai Mango Salad
by Trevor Lowe
(South Africa)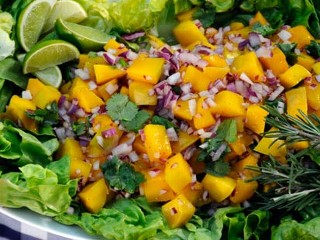 Ingredients
3-4 ripe mangos
2-6 fresh chilis
bunch of coriander
2 fresh limes
1 red onion

Method
Cut mango into cubes, thinly slice the red onion,
finely chop the chili (2 = mild ; 6 = thai style).
Roughly chop the coriander, squeeze in the 2 limes and toss together in a bowl. Ready to serve.

For an added touch, soak the sliced onion in lemon juice for 4-6 hours before draining and adding to the salad.