Meatball Recipe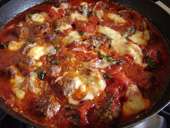 This homemade meatball recipe is oven baked with a delicious homemade tomato sauce!
Originally taken from Jamie Oliver's The Naked Chef, and tweaked a little by yours truly, this is one of the best meatball recipes in town!
Ingredients
1kg minced meat
1 onion, finely chopped and gently fried
1 tsp crushed garlic
2 slices of bread, crumbed
1 tbsp dried oregano
1 tbsp dried rosemary
1 tsp chilli powder, or 2 tsp chilli paste
1 egg yolk
Salt and pepper
Olive oil
Fresh basil if you can get it, or dried
Grated cheddar cheese
Grated parmesan cheese
Tomato sauce
Method
Put the mince into a bowl and add the onion, garlic, breadcrumbs, oregano, rosemary, chilli, egg yolk and salt and pepper. Mix well, and roll into meatballs. Add the olive oil to a pan on high heat, and fry the meatballs until they're brown all over but not cooked through. Put the meatballs into a baking pan or casserole dish. Cover with tomato sauce, shredded fresh basil or sprinkled dried basil, and the cheeses. Cook in the oven at 200°C for about 15 minutes, until the cheese is golden. Serve with rice.
Hints & Tips
Use wet hands when rolling the mixture into meatballs, to avoid stickiness.
I like to make the meatballs quite big, so that they don't overcook and therefore dry out.
You can cook the meatballs straight away, or prepare them a day ahead and keep them in the fridge.






Click to download the printable version of this recipe
To the Top of Meatball Recipe
Comments or Questions?